November 15th, 2012

Success on Fine Art America is up to you! FAA just provides the fulfillment.

Sramana: What accounts for the success of some artists and the lack of success of others on FineArtAmerica?

Sean Broihier: There is a disproportionate distribution of wealth because we do not have a huge bulk of buyers relative to artists. There are some artists who are making an enormous amount of money and some who are making relatively little money. It all comes down to how the artists take advantage of the tools we give them and how they market themselves. The artists who are making $5,000 to $10,000 a month are putting in the required time and energy to generate their own sales. They are doing email campaigns, they are going to art fairs, making TV appearances, and attending trade shows. We are just doing fulfillment orders for those types of artists.

We are a marketplace that gives you tools to be successful. With so many artists on the site, we cannot provide them all with individualized sales and marketing attention. All we can do is give them tools to help them be successful. People who sit around and take the wait-and-see approach will have one or two sales a year. As for anything in life, you will not be successful unless you put effort into it.
November 1st, 2012
There is something about a smile that is contagious, isn't there? Humans must be programmed to read a friendly smile and react positively. People don't seem to smile enough these days. Too much anger around. But you'd be surprised how many tough masks can be melted away with a little smile.

There are plenty of great sayings revolving around the smiles:

- "Smile and the whole world

"You haven't lost your smile at all, it's right under your nose. You just forgot it was there."

"If you see a friend without a smile; give him one of yours."

"Smile - It's the second best thing you can do with your lips."

"Smile, even if it's a sad smile, because sadder than a sad smile is the sadness of not knowing how to smile."

"It is almost impossible to smile on the outside without feeling better on the inside."

I couldn't help being attracted to the nice smiling man on this vintage tobacco box package. He must be a tobacco farmer beaming with pride as he puffs away on his pipe full of tobacco that he grew on his own farm. The complete satisfaction of a hard job well done and the satisfaction of sitting back and enjoying the fruits of your labors.

I find myself drawn in to some dark themes so it was refreshing to work on this piece that will hopefully bring a smile to everyone who sees it. I think it would be perfect to place by a door way so that each morning you could leave the house with a big smile on your face and hopefully come back at the end of the day with the same smile, while along the journey spreading the cheer.

Smile - it makes people wonder what you are up to!

Artwork - Smile by Edward M. Fielding





November 1st, 2012
Back in the mid-80s when I took a high school photography course, the school's camera stable was filled with Pentax K1000s. These were very basic cameras with no bells and whistles. They were toughly constructed out of heavy metal, leather and glass. They were ugly and not all that exciting but for learning the basics of black and white photography they were great for teaching photography. For schools they were perfect because they were inexpensive, tough and easy to operate.

Everything on this basic 35mm film camera was manual - manual film advance, manual shutter speed, manual focus - nothing automatic here.

The only thing electronic in these cameras was the light meter. The light meter was a simple needle that went up and down as you adjusted the shutter speed or aperture. But the camera itself didn't have any intelligence so it was up to the operator to change the shutter speed and/or aperture to get the needle to line up in the proper exposure setting.

In so many ways it was the perfect way to start learning photography, capturing light on film with the least amount of distractions between the photographer's vision and the subject.




November 1st, 2012
Someone sent me this lately...

1. The later you are, the more excited your dogs are to see you.
2. Dogs don't notice if you call them by another
dog's' name.
3. Dogs like it if you leave a lot of things on the
floor.
4. A dog's parents never visit.
5. Dogs agree that you have to raise your voice to get your point across.
6. Dogs find you amusing when you're drunk.
7. Dogs like to go hunting and fishing.
8. A dog will not wake you up at night to ask, "If I died, would you get another dog?"
9. If a dog has babies, you can put an ad in the paper and give them away.
10. A dog will let you put a studded collar on it without calling you a pervert.
11. If a dog smells another dog on you, they don't get mad. They just think it's interesting.
12. If a dog leaves, it won't take half of your stuff.




November 1st, 2012
Vanishing Vermont Historic Barns

The estimated number of historic Vermont barns is 12,000 or so but nearly 1,000 of these barns are lost each decade. Some say four historic Vermont barns collapse every week. Then there are those lost to fire, vandals, development or simple neglect.

Photographing Vermont Historic Barns - Challenges

Photographing classic barns in Vermont presents a number of challenges to the photographer:

Finding Them - There are some online guides to famous spots around the state where you can stand tripod to tripod with fellow photography buffs, otherwise you need to drive around and hope you come upon one. My favorite trick it to get lost and let my GPS lead me home, where hopefully I come across a hidden gem. More on this later.

Parking - I prefer to walk when I photograph so I can take in details but when one is barn hunting this is difficult since farmland is not necessarily compact! Vermont roads, especially those in rural areas, are often compacted gravel with ditches on either side. They typically have no shoulder at all so it can be extremely hard to find a place to park.

Things that can hurt you - You have to be careful when setting up your shot. Bulls with horns, barbed wire, electric fences, old well holes, steep ditches, poison ivy, ticks can all ruin your day.

Weather - New England weather can be tricky. Overcast days are nearly the norm in the fall seasons when one most wants to be out photographing the autumn foliage. Mornings can be foggy and in the mountains, the morning sun can be late raising and quickly setting.

Historic Vermont barns come in a variety of flavors. Whitewashed, stained, weathered gray and my favorite "bright barn red". The classic bright red barn stands out nicely against fields of green or snow covered fields.

Why are barns red? According to Grit Magazine:

Early 18th-century bridges and barns went unpainted. The right wood in the right place, it was discovered, needed no paint. Even houses in the earliest settlements were not painted. To paint the barn would have been viewed not only as extravagant, but vulgar and showy.
However, by the late 1700s, the art of wood seasoning gave way to the art of artificial preservation. Virginia farmers were the first to become paint-conscious. In Pennsylvania, the Dutch settlements latched on to the custom of red bricks, red barns, red geraniums, even reddish-brown cows. When a Pennsylvania Dutch farmer added big ornamental designs to barns, "just for luck," he was accused of designing a hex sign to frighten the devil. Many old-timers sneered at their neighbors' newly painted barns and accused them of copying "those superstitious Germans of Pennsylvania."
But color caught on. Inasmuch as ready-made paint was not available, a farmer mixed his own. He discovered that skimmed milk, lime and red iron oxide made a plastic-like coating that hardened quickly and lasted for years. Occasionally, it hardened too well and peeled off in sheets. Linseed oil was subsequently added to the recipe to provide the necessary soaking quality. Thus American "barn red" was born. It came into being through function and utility, rather than decor or superstition. It was soon discovered that the red barn color was warmer in winter since it absorbed the sun's rays.

Read more: http://www.grit.com/Community/Why-Are-Barns-Red.aspx?page=2#ixzz2AFnzpHJe

Back to Photographing Vermont Barns

Driving around the back road of Vermont, be sure to have a GPS unit, a good map, food, water, a spare tire, a cell phone etc. I'm not kidding! A GPS unit will take you on the most unimaginable back roads. The road system in Vermont is significantly rural with unpaved secondary roads the norm.

Once I followed the sweet voice of my GPS unit up a mountain, through a heavily wooded forest on a dirt road with ditches and either side and only enough room for a single car. For five miles I couldn't turn around and prayed that no one started coming in the other direction. Finally to my relief, I popped out in downtown Woodstock. Vermont is also the most unpopulated state in the country so you can't always count on a fellow human being to help you out if you get into trouble and there is spotty cell phone coverage so be prepared for anything!

Tips for Photographing Vermont Barns

The Magic Hour - There is a special time of day called the Magic Hour, also known as the Golden Hour, when the angle of light is low and the sun gives off a warm glow. It occurs one hour after sunrise and one hour before sunset.

Bring an assortment of lens - wide angle for capturing the whole scene and a telephoto for zooming in on details.

Tripod - You may feel that fast shutter speeds take away the need for a tripods but a tripod will allow you to use smaller apertures for deep depth of field in landscapes and I find a tripod helps to slow the process down so you can concentrate composition. Plus if its freezing cold your shaking won't blur the picture!

Polarizing filter - Early on in my landscape photos I was getting dull colors. It drove me crazy when I got back to the computer and the photos were kind of washed out. A polarizing filter will help combat haze that dulls colors. Its like sunglasses for your camera.
Copyright by Edward Fielding
Cameras used Panasonic G2 & G3 Micro Four Thirds bodies and lens.




November 1st, 2012



What is it with artists and old stuff? I don't know a photographer who would pass up an old rusty truck or rotting barn. Its the texture of the wood, of the rusting metal and the sense of nostigia for yesteryear I suppose.

Excerpt of a poem by Donnie / Sinbad the Sailor Man

"I came home broken and busted up
I damned that old pickup truck

To hell and back with every step I took
I lost a another battle with it
At the worst of times
It sits sunning itself down the road
And it refuses to start again on this day..."
June 16th, 2011
I'll be doing three more robotics summer camps this summer at the AVA Gallery in Lebanon, NH. These camps use the AVA's media lab and have been very popular among middle school kids (mostly boys) in the Upper Valley area of Vermont and New Hampshire. I use Lego Mindstorms NXT robots and my own special challenges. The kids learn to apply logical reasoning to solve problems as well as three dimensional hands on building that is so important in this increasingly flat world of ours.

In the fall I'm doing a special Girls Only version to help the technology minded girls learn robotics and logic without those smelly boys around.
June 16th, 2011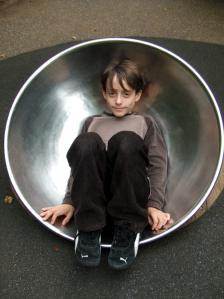 I've had a long personal history with photography but recently I think I've finally come to understand it. The purchase of a new quality digital camera has made me believe I could finally have some mastery over the craft of capturing light. My new digital camera has given me so many controls over how an image is captured compared to my past forays with 35 mm, 4 x 5 view cameras and alternative processes.

I see it as a long journey of discovery, trial and error, false starts and absolute stops. College interrupted any arts development by interjecting getting a "real job" as the main focus of my life. I studied business but when I had a chance I'd steal off to the library and flip through the large collection of photography books. I studied all the masters, flipping page by page and especially liked Duane Micheals and William Wegman, I guess I liked the humor. I subscribed to Aperture and went to the Institute of Contemporary Art in Boston to see the Mapplethorpe exhibit.

Then work, getting a pay check and paying off student loans became a priority. A time of unemployment found me developing film in our newlywed apartment in Lowell, MA. After sending off resumes I'd clean out the closet and set up my darkroom and then later put everything away before my wife came home from work. Later I bought a vintage press camera off the AOL bulletin boards, in this early version of Ebay style trading. I lugged this heavy camera and wooden tripod around developing one or two images in a photography session. My naturally disorganized nature really was not conclusive trying to be the next Ansel Adams.

First came marriage then came a cradle and my focus was on a video camera and point and shoot cameras as well as the implosion of the computer magazine market and next the Dot Com bubble - I was popped out of both of these bubbles in a short amount of time and then 911 happened. It seemed like a good time to get away from civilizations so we headed up to an island off the coast of Maine. It would seem that this beautiful landscape would have sparked my creative juices but there was so much to do, volunteering at school, running my website (www.fishboy.com) and just trying to survive in this strange new land. I suppose all of this time allowed my brain to store images, ideas and themes that now I am ready to unleash.

June 16th, 2011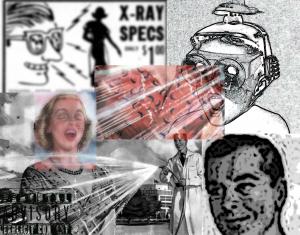 I've started a new collage series exploring some topics I'm interested in like pop culture, retro futuristic optimism, religion, roadside attractions and adolescence. The themes and images come from the old noggin' topics I often consider and am attracted. The collages are done mostly in Photoshop with original photographs, scans and altered historic images - blended together to create some sort of mind map of the thoughts that have been jumbling around in my head over the past thirty years or so. Some certainly have been suppressed for sure during the more "serious" times in my life but at this moment I am feeling very free to let these images come out of my brain and into the public space.

The collages are generally black and white with a little muted colors splashed for interest. The images evoke a vintage clip art look that reminds one of lazy summer afternoons in the tree house with a stack of comic books.

If it were up to me, I think these images are best displayed in medium sizes - perhaps 8" by 10" and in groups of four or more. They collectively tell a story and are related in someway depending on the viewers memories.
June 15th, 2011
The first wave arrived without notice. Tiny alien spacecraft that emitted no more sound then the buzzing of a bee. Little naked humanoid like creatures from a distant world sent to observe, study and collect information and samples from the Goldilocks plant. Could this be the salvation for a dieing planet? Would the native species put up any resistance? They had been here before, thousands of years in the past they had built great navigational markers in the deserts, surveying marks made from local stone and positioned into the shapes of circles and pyramids. The early visitors had little time to explore the planet, only enough time to mark the territory for future exploration. But now times had become more desperate and the mission more serious...